Recently Governments requested schools Automated Permanent Academic Account Registry APAAR id 2023, to seek parental consent for the creation of a new student identity card as under the NEP 2020 policy in India.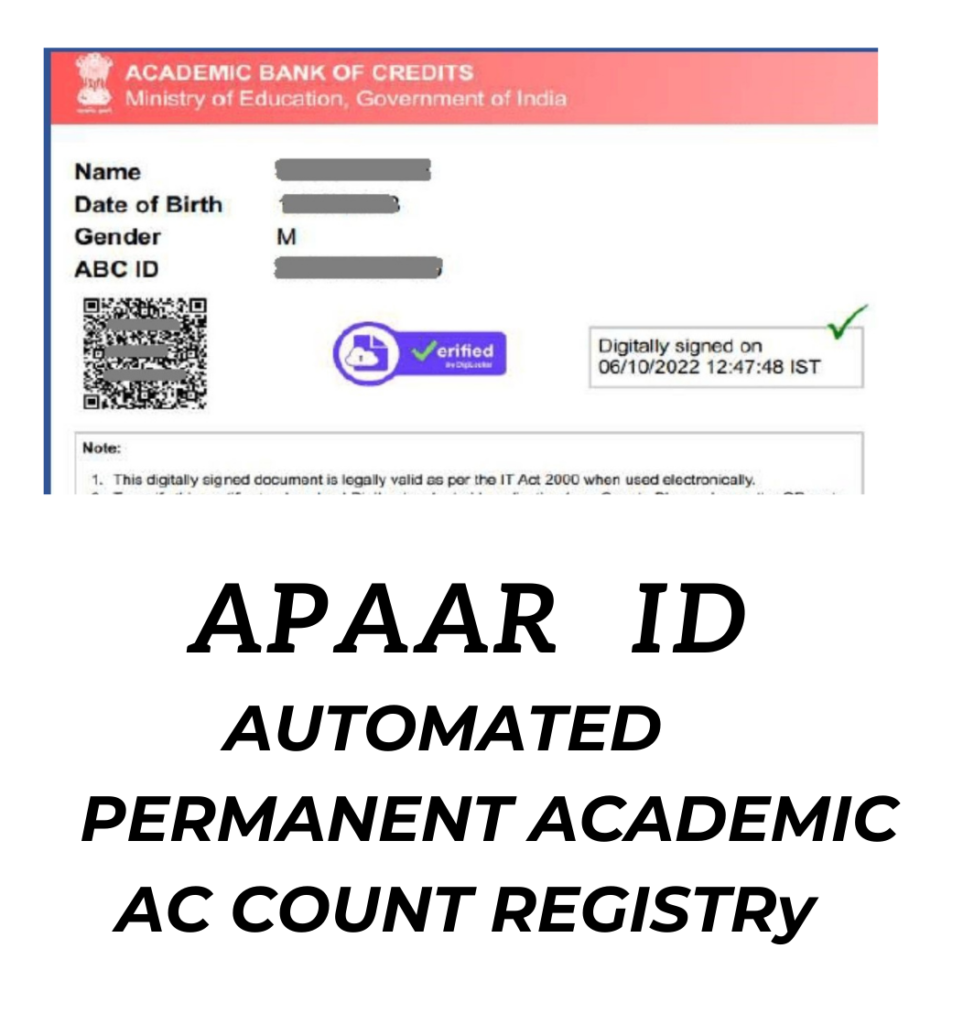 apaar id
Table of Contents
WHAT IS APAAR ID 23
APAAR stands for Automated Permanent Academic Account Registry. It's a unique ID system for students in India, covering the entire academic journey from preprimary to higher education.
Features
Each student receives a lifelong APAAR ID.
APAAR serves as an access point to Digi-locker, a platform to store academic documents digitally. Purpose Aimed at simplifying education and reducing dependency on physical documents.
Introduced under the National Education Policy 2020.
Facilitates state governments in tracking literacy, dropout rates, and other metrics.
Helps counter fraudulent and duplicate certificates.
Ensures certificate authenticity by allowing only original issuers to deposit credits. Functionality
APAAR ID is tied to the Academic Bank Credit (ABC), a digital repository of a student's academic credits.
Students can store certificates from both formal and informal learning.
On changing schools, data in ABC can be transferred seamlessly using the APAAR ID. Registration
Students provide basic details (name, age, DOB, gender, photograph).
Aadhar number is used for verification purposes but isn't shared.
Registration requires consent, with parents consenting for minors. APAAR ID creation is voluntary.
Concerns the issues
Privacy issues related to sharing Aadhar details.
Government assures data confidentiality, limiting sharing only to entities involved in educational activities.
Students can choose to halt data sharing, but already processed data remains unaffected
What is N.E.P. 2020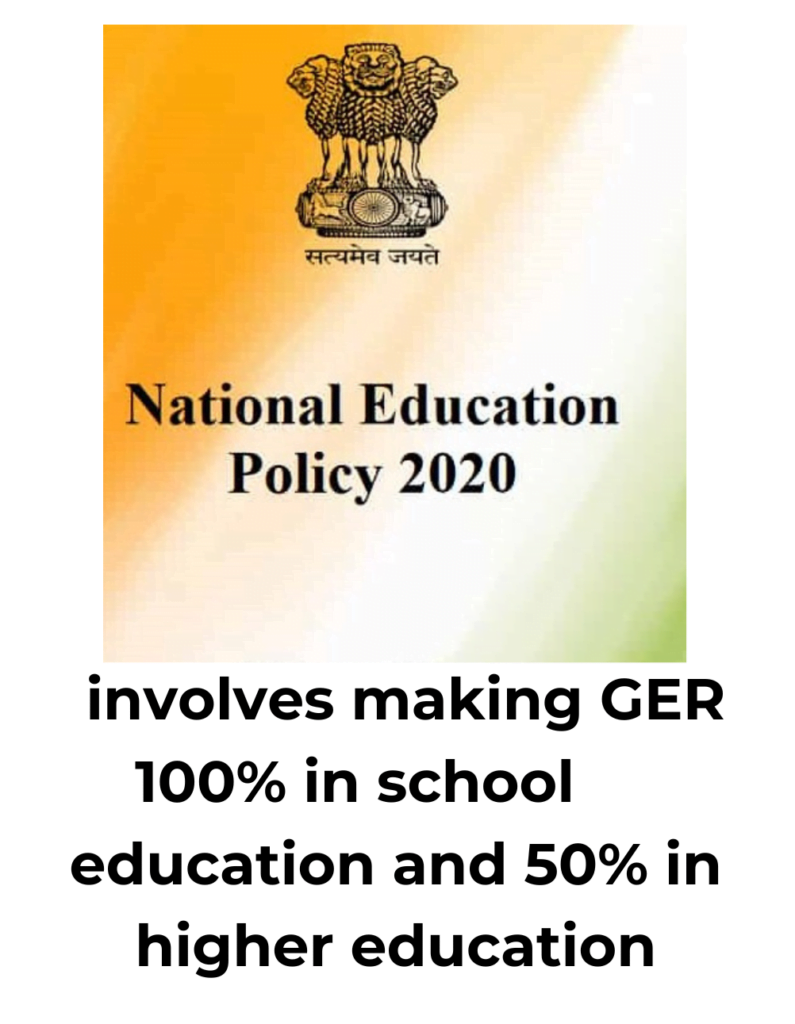 It was launched by 29 July 2020 reforms in the education sector to create accessible equitable and high quality education for all. Involves making GER 100% in school education and 50% in higher education. this is difficult to achieve only through the brick and mortar buildings of schools, colleges and universities. The way for access equity quality affordability and accountability this policy is aligned to the 2023 agenda for sustainable development.
For school
From 10+2 to 5+3+3+4
Current 10+2 structure in which policy covered schooling from class 1 to 10 [age 6-16]
Class 11-12 [age 16-18] gives way to 5 years of foundational education 3 of preparatory 3 of middle and 4 year of secondary schooling.
Multi-stream
Flexibility to choose subjects across streams all subjects to be offered at two levels of proficiency
Diluted board
Board exams to test only core competencies could become modular [ objective & subjective ] will be offered twice a year.
Multilingual
This exam 3 language policy to continue with preference for local language medium of instruction till class 8.
Bag- less day
School students to have 10 bag-less days in a year during which they are exposed to a vacation of choice [Informal internship]
For colleges
Sat college test
National testing agency to conduct common college entrance exam twice a year
4 year bachelor
4 year multi-disciplinary bachelors program to be preferred mid-term dropouts to be given credit with option to complete degree after a break.
No affiliation
Over next 1.5 year colleges will be given graded autonomy to give degrees, affiliation with universities to end so would deemed university status.
Fee cap
Proposal to cap fee charged by private institution of higher learning.
Going global
Top-rated global universities to be facilitated to come to India top Indian Institution to be encouraged to be global.
Key point NEP 2020
1. recognizing identifying and fostering the unique capability of each student.
2. achieving foundational literacy and numeracy by all students by 3 grade.
3. multidisciplinarity and a holistic education.
4. full equity and inclusion.
5. extensive use of technology.
6. promoting multilingualism and the power of language.
7. creativity and critical thinking
8. emphasis on conceptual understanding.
Initiatives taken under the NEP 2020
School education
Formulation of national curriculum framework, under the guidance of the national steering commite,
Is in progress. In school education initiatives like quality ECCE in balavatika, NIPUN bharat , Vidya pravesh , examination reforms and innovative pedagogies like Art- integrated education, toy based pedagogy are being adopted for better learning outcomes.
Promotion of India languages
National training agency [NTA ] has conducted the JEE exam in 13 languages. AICTE has developed an AI based translation app and study material is being translated into Indian languages.
Multi modal Education
Swayam, diksha, swayam prabha , virtual labs and other online resource portals are providing study materials in multiple Indian languages including sing language and in audio formats for the visually impaired. The permissible limit of online content in a program has also been raised to 40%.
Multi-disciplinarity in higher education
Multiple entry- exit for flexibility and life long learning, along with the launch academic bank of credit on digi-locker platform will now make it possible for student as per their convenience and choice. UGC has published guidelines according to which students can pursue two academic program simultaneously.
Innovation and start up
Atal ranking of institutions on innovation achievement [ARIIA] aligned with NEP has been launched in 2021 for creating a culture of research, incubation and start ups.
Keeping in view the recommendation of NEP 2020 and UNESCO sustainable development goal [SDG]
4.6, a centrally sponsored scheme NEW INDIA LITERACY PROGRAMME has been approved by the government of the india in this year with financial outlay of rs.1037.90 crore
[central share rs 700.00 cr. And state share 337.90 crore ] for the financial year 2022-23 to 2026-27.
N E P 2020 New scheme 23
1. PM SHRI
2. Draft National Policy on person with disabilities [PWDS]
3. Poshan Bhi, Padhai Bhi
4. Pradhan Mantri Uchchatar Shiksha Abhiyan
5. New Guidelines For Granting Deemed
NOTES
All of the five scheme will be details part -2 if you went click the link.