Empowering Communities the Impact of p.m.vishwakarm scheme Pathbreaking Scheme 23.
p.m modi launched Sunday on p.m.modi 73rd birthday 17th September 2023. lunching p.m. vishwakarma yojana [PMVY] with technology to augment their skills for the modern market. p.m. vishwakarma yojana budget 13000 crore scheme. Out lay over 5 years 23-24 up to 2027-28. Finance minister Smt.nirmala sitaraman during 23-24 budget sepeech lunching the scheme yashobhoomi or india international convention of expo centre at dehil dwarka.
P.M inaugurates the 1st phase of india international convention and expo centre name yashobhoomi scheme.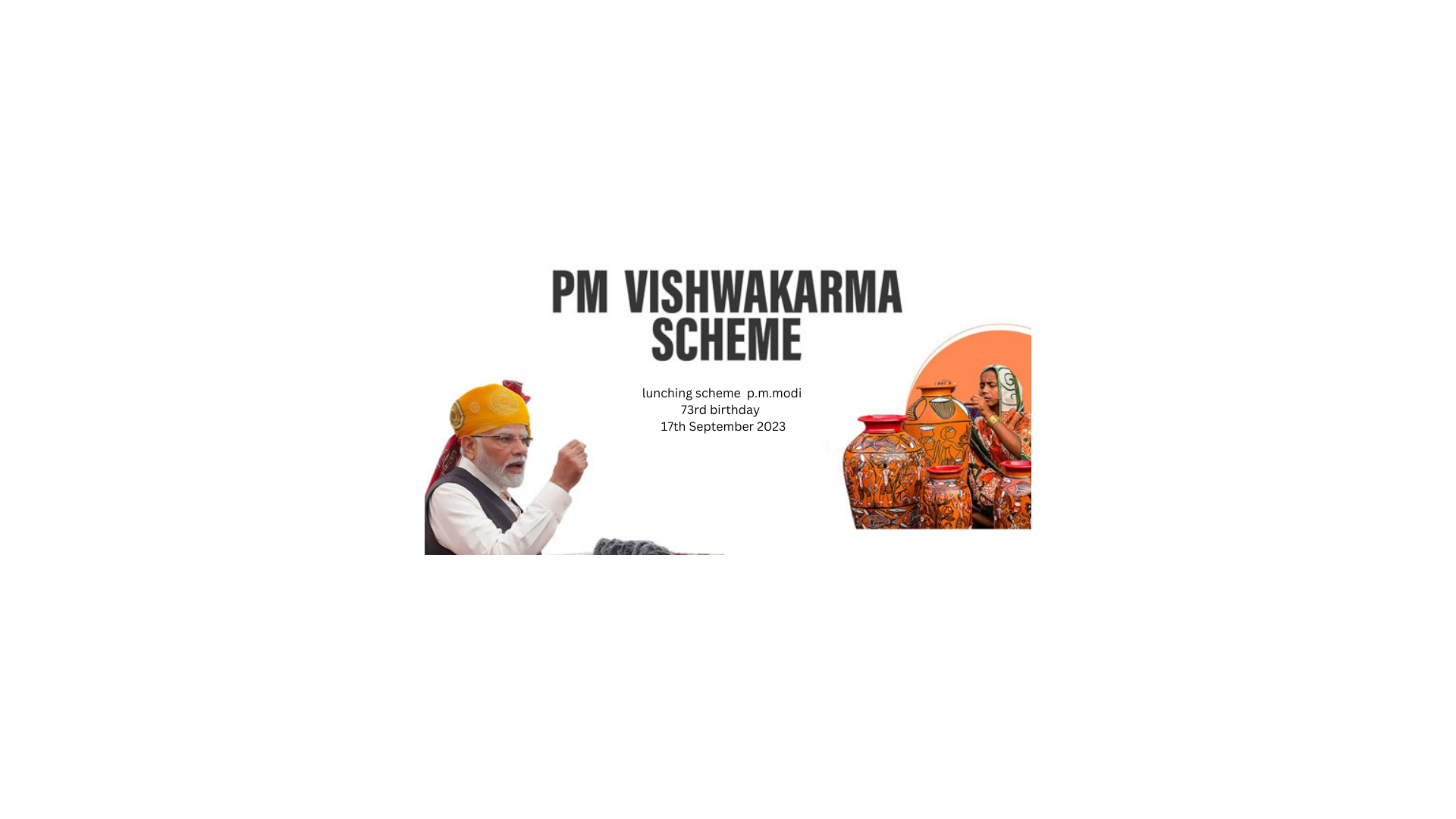 Table of Contents
What is the p.m.vishwakarm scheme
P.M Vishwakarma yojana it is also known p.m vishwakarma kaushal samman yojana, p.m.vikas yojana It offers collateral free enterprise development loans at a less interest rate in two tranches of loan 1st is 1 lakh and 2nd is 2 lakh. Vishwakarm a yojana in his address 15th August 2023 independence day last months implement p.m.modi say we are living at a time when there is such a government in the country that provides recognition and help to people. This scheme it expected to benefit about 30 lakh families. This scheme vision for local purchase and seller local products for the festivlas like ganesh chaturthi, dhantras, deepawali, dussesra etc.as well as tourise sector to boost to india. P.M.Modi lauched Sunday p.m. vishwakarma yojana [PMVY] 1st phase of Rs.5400 crore india international convention and expo cente named yoshobhoomi at dwarked in new delhi metor stations. The credit guarantee feeswill be borne by union government.18 unveiled, 18 customised stamp sheets showcasting the 18 traditional trade toolkit e-booklet.
What is benefits this p.m.vishwakarm scheme 23 india growth
Vishwakarma yojana 23 is an initiative that operated as central sector finanacial allocation of 13000 cr.
Launched on 17th September 2023.
Beneficiaries of artists and craftsman
The goal vishwakarma yojana 23 fortify and foster the time honoured guru-shishya parampara a linead based tradition where artisana and crafts adeptly ply their traditional skills using handcrafted techniques and tools. Traditional trades which like carpentry, boat crafting, blacksmithing, armour crafting, hammer and tool kit manufacuturing., locksmithing, goldmisithin, pottery, brooms, traditional doll and toy crafting laundry service tailoring and fishing net making.joining from rural areas into both india's local and international value market.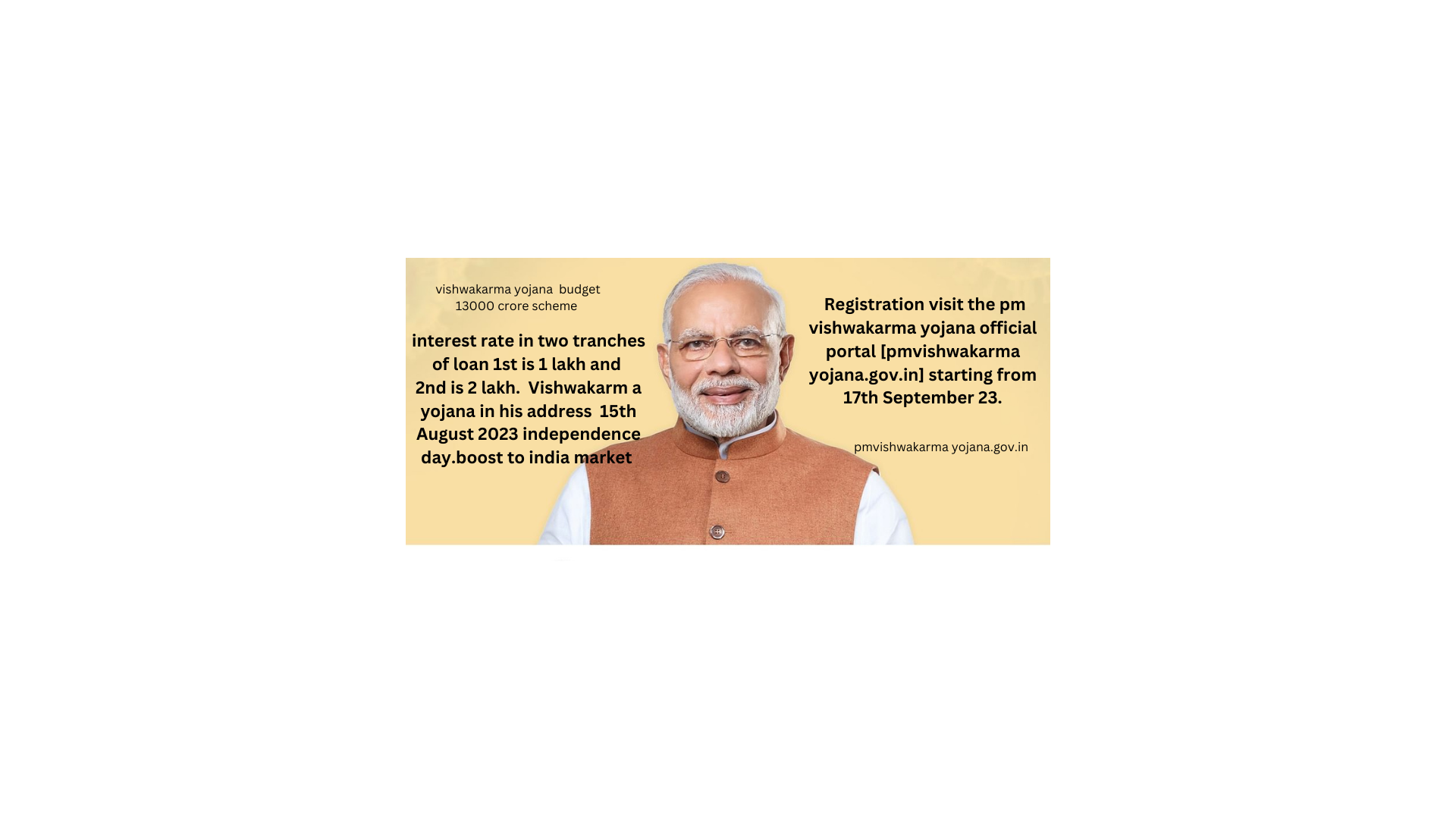 Who is eligible for the p.m.vishwakarm scheme
Traditional crafts and skills for centuries, ofter taugh by elder in the family. These include a lack of professional training for their work of modern tools,and the availability of little capital for investment.
What benefits will they get this scheme
The scheme is help enhance the skills of worker and help them avail loans easily.
Under the vishwakarma yojana 1st phase amount 5400 crore
Rs 1 lakh loan up to 2 lakh at 5 % interest rate. And subvention cap 8% to paid micro, small, medium enterprise [MSME].
The scheme offers collateral fess enterprise development loan
1 lakh repaid 18 month and 2 lakh repaid 30 month
skill training 5-7 days (40 hours). Rs 500 per day stipend during skill training.
Rs.15000 for tools purchase.
How to apply P.M vishwakarma yojana
Registration visit the pm vishwakarma yojana official portal [pmvishwakarma yojana.gov.in] starting from 17th September 23.
The minimum age of the beneficiary should be 18 years on the date of registration
Registration using your mobile number and aadhar card.
Verify your mobile number and aadhar card with OTP authentication.
Aadhar card name, addres and trade-releted information.
Than submit the registration form.
Download registration your digital ID and certificate for future reference.
For loan apply Login one more [pmvishwakarma yojana.gov.in] using ID number.
help of commercial bank, regional rural banks and other financial institutions other wise  go to your bank and apply and get loan and start your business. Providing monetary support to artisans. Boosting the visibility and recognition of artisans brands. Promoting the adoption of digital payment methods. Lakhs of empower youth are expected new employment opportunities make in india skill and development.
Conclusion
Vishwakarma scheme launched skill for the modern market boost to in Indian local market all the festival.
read about p.m.Ujjwala Yojana link