The Real Reason Behind the World Student Day 2023 birth anniversary of the 11th President of India.
The theme for World Student Day 2023
FAIL: stands for First Attempt in Learning.
World Student Day is annually observed on 15 October to the birth anniversary of the 11th President of India (from 2002 to 2007) and the Missile Man of India Dr. A P J (Avul Pakir Jainulabdeen) Abdul Kalam
15 October 2023 the 92nd birth anniversary of Dr. APJ Abdul Kalam.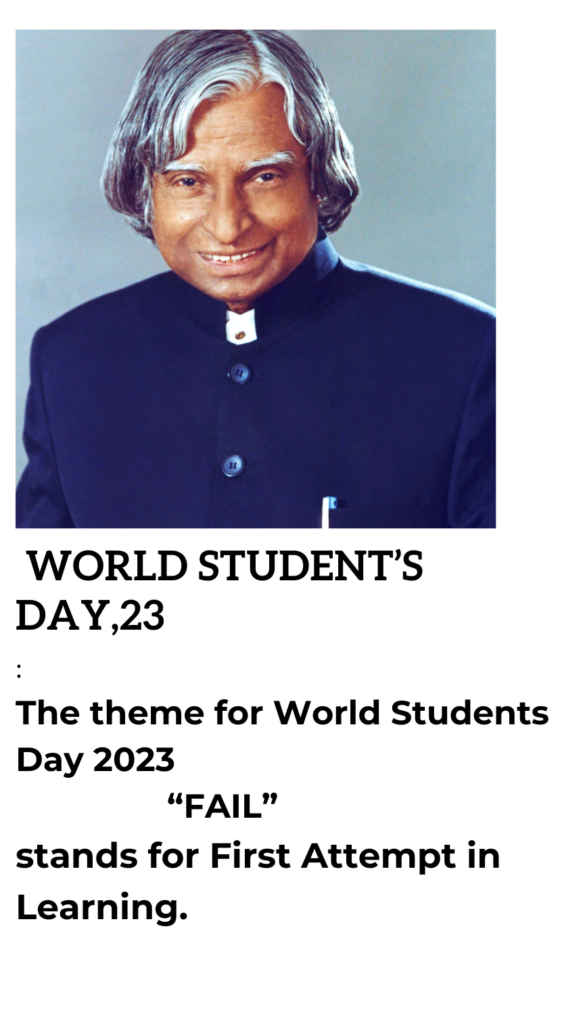 Table of Contents
About to Dr. APJ Abdul Kalam
Dr. APJ Abdul Kalam was born on 15 October 1931 in Rameswaram, Tamil Nadu.
Kalam was bright student who shoed promise in science and mathematics.
Degree in St.joseph's college madras institute of technology.
He came from those family's whose financial condition not good. Kalam took up odd job in his childhood but never gave up his education.
As an aerospace Scientist, he worked with the Indian Space Research Organisation (ISRO) and the Defence Research and Development Organisation (DRDO).
First indigenous satellite launch vehicle project successful. Kalam directed two project namely devil and valiant develop ballistic missiles from the technology successful SLV program.
Kalam was the chief Executive of the integrated guided missile development program [IGMDP] He researched planned missiles one by one. from 1992 until 1999 kalam was appointed DRDO Chief scientist.
President of India Dr.APJ Abdul Kalam
He was elected as the President of India in 2002 and held the post till 2007. He was nominated by the Bharatiya Janata Party (BJP) and its National Democratic Alliance (NDA).
After completing his term as President, he served as a visiting professor in various esteemed institutes and universities of India, such as the Indian Institute of Management (IIM) Shillong (Meghalaya), Ahmedabad (Gujarat) and Indore (Madhya Pradesh).
He passed away in Shillong, Meghalaya on 27th July 2015.
Dr Kalam, a great teacher, an eminent scientist and a great statesman.
positions held by Kalam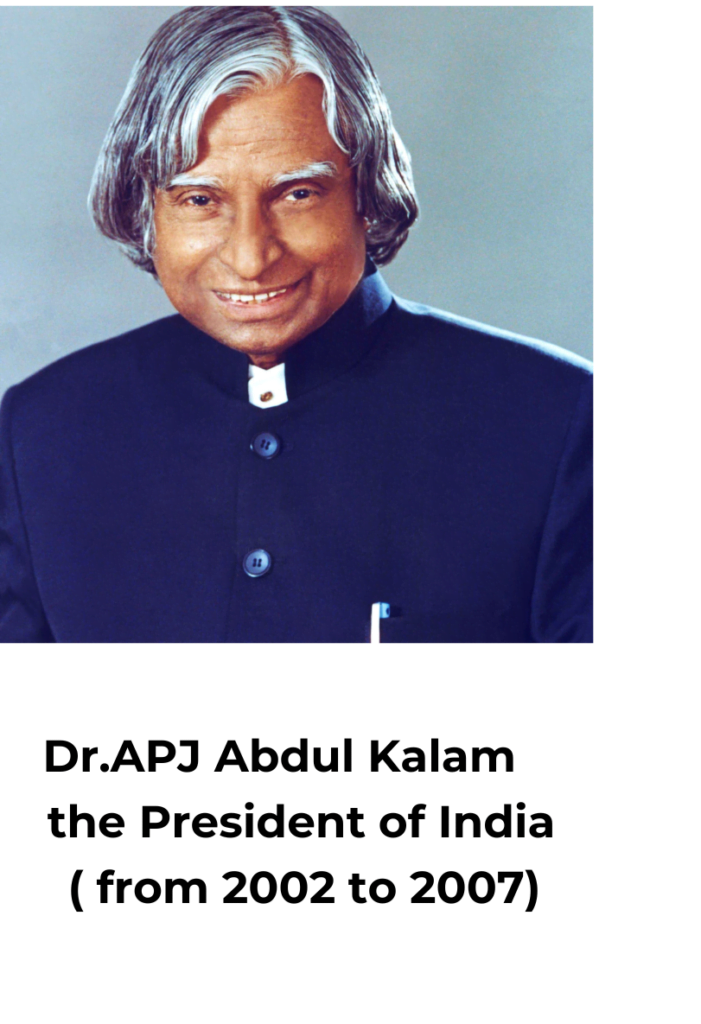 He served as the Scientific Adviser to the Defence Minister and Secretary of the Department of Defence Research & Development from July 1992 to December 1999.
He served as the first Principal Scientific Advisor(PSA) to the Government of India (GoI), in the rank of Cabinet Minister, from November 1999 to November 2001.
The Chief Project Coordinator of the Pokhran-II nuclear tests, a series of 5 nuclear bomb test explosions conducted by India at the Indian Army's Pokhran Test Range in May 1998. Indian National Committee for Space Research (INCOSPAR) committee working under Vikram Sarabhai, the renowned space scientist.
Significant Works For India
He played a major role the development of India's first indigenous Satellite Launch Vehicle (SLVIII) which successfully injected the Rohini satellite into the near-earth orbit in July 1980.As the Chief Executive of the Integrated Guided Missile Development Programme (IGMDP) at the DRDO. He was the key figure in the development of ballistic missiles like the Prithvi, and Agni.
Awards
He was awarded the
1.Padma Bhushan in 1981 for Civil Service
2.Padma Vibhushan in 1990 for Science and Engineering.
3.Bharat Ratna for Science and Engineering In 1997.
4.The Veer Savarkar Award (1998)
5.Indira Gandhi Award for National Integration (1997)
Inspiring Books
1.Wings of Fire: An Autobiography (1999)
2.India 2020 – A Vision for the New Millennium (1998)
3.Evolution of Enlightened Societies (2006)
4.My Journey: Transforming Dreams into Actions (2013)
5.Turning Points: A Journey Through Challenges (2014)
6.Reignited: Scientific Pathways to a Brighter Future (2015
Other county/ India Tributes for APJ Abdul Kalam world student day
1. 2005, Switzerland declared May 26 as the Science Day, dedicated to Dr. APJ Abdul Kalam, who had visited Switzerland on this day.
2. 2015, the Odisha government announced renaming the outer Wheeler Island in Bhadrak district as APJ Abdul Kalam Island.
3. 2017, the Odisha government formally named Wheeler Island as APJ Abdul Kalam Island, as a tribute to APJ Abdul Kalam on his 2nd death anniversary.
4. 2023, Aurangzeb Lane in Lutyens' Delhi has been officially renamed to Dr APJ Abdul Kalam Lane. The New Delhi Municipal Council (NDMC) workers in Delhi unveiled a signboard bearing the name of DR. APJ Abdul Kalam.
5. 2015 NMDC changed the name of Aurangzeb Road to Dr APJ Abdul Kalam Road
Conclusion
World student day after 2015 every birth anniversary of DR.Dr APJ Abdul Kalam give honor him outstanding contribution ISRO and DRDO.